Make $1,000 A Month Sharing Your Car
Ever wanted to make some extra cash? Well there's a new car sharing program that will help you earn up to $1,000 bucks a month, if you're willing to share your car!
Unlike most car rental services, Relay Rides is the first "community-based" car sharing program. The founder, Shelby Clark came up with the concept after having to bike 2 miles to Boston to use a Zipcar service. According to Clark, "Americans can live very wasteful lives."
He's found a way to conserve resources and gain money at the same time.
The great thing about sharing is the money: People regularly make more than $1,000 dollars per month at RelayRides, covering most of their car-related costs that month. If you're skeptical about renting your car, Clark stresses two important points while participating  in the program:
TRUST & SAFETY! If you don't follow those rules, "We kick you out" stated Clark.
During an interview with Jesse Draper (creator & host of The Valley Girl Show), Clark discussed the details of his program. Draper, an entrepreneur herself, created a program that helps start-ups and future business owners. Clark has seen his business grow since starting the program.
TRUST IN THE PROGRAM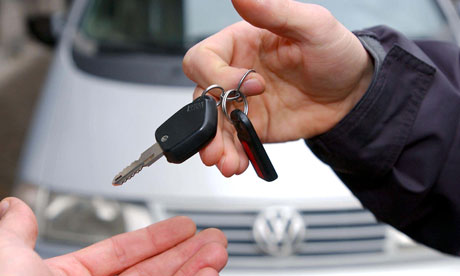 Although the cash is a great incentive, when reading about this program, the #1 thing that kept running across my mind was: ACCIDENTS! Yes Clark assures us that the community is based on a TRUST & SAFETY law, but you can't predict an accident.
For the concerned, the company screens driving records of all clients. They also have a large insurance policy to cover damages. Relay Rides also has a partnership with General Motors which illustrates how much car sharing is growing. They will soon have OnStar technology which will allow you to open GM cars via text message.
HOW IT WORKS
Clients will receive a sticker (placed in the window) and card. The card has a scanner which is used to open the car door for access. Scheduling is also available via smart phones. They ask that the car be returned on time and report any damages, scratches or accidents.
Here's a full demonstration below:
Although the concept is simple and it's a GREAT way to earn some extra cash, personally I wouldn't recommend using your brand new car for this service. Perhaps if you have a moderate to generously used car, it would be ideal for the program.
We're living in an economy where every penny counts. So if you can use an unwanted/unused car, go for it! But a BIG pass for the newer models. Sorry, the thought of an accident, damage, or high mileage just is not worth the $1,000 a month in my mind.
FOLLOW US ON TWITTER @DABXBLOGGER & @JayBoogieBx