Does Adidas New Sneaker Invoke Images of Slavery? [Cancels Shoe]
Adidas has given new meaning to "A Slave For Fashion" but find out why their new design is causing such an uproar.
The shoes are called the JS Roundhouse Mids, and were featured in June 14th's Adidas Originals Facebook page.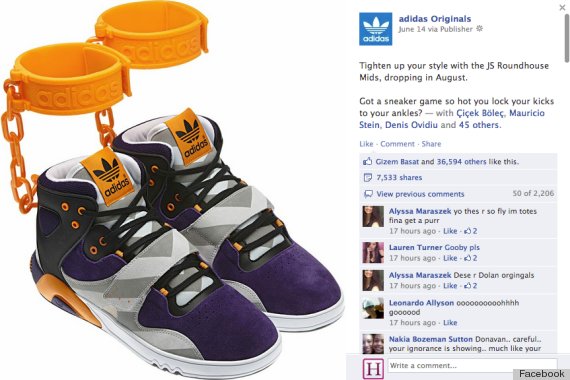 The purple and orange sneakers come with a set of plastic shackles that strap around the ankles.
"Got a sneaker game so hot you lock your kicks to your ankles?"
the company asked in the Facebook post. The post was "liked" by more than 36,000 people by Monday morning and had received more than 2,000 comments but the reaction was mainly negative.
These shoes are the WORST idea EVER! Really, were supposed to voluntarily buy shackles now?! wrote one commenter.
Who ever wears this is openly saying they are a slave, said another.
A writer for IndieWire wondered if the shoes were inspired by slave-movie-fever and asked if the brand could really be ignorant of what the design of these new kicks might suggest. In a statement to the Daily News on Monday, Adidas dismissed the criticism.
"The design of the JS Roundhouse Mid is nothing more than the designer Jeremy Scotts outrageous and unique take on fashion and has nothing to do with slavery," the company said.
"Jeremy Scott is renowned as a designer whose style is quirky and lighthearted and his previous shoe designs for adidas Originals have, for example, included panda heads and Mickey Mouse. Any suggestion that this is linked to slavery is untruthful."
Adidas confirmed the shoes will hit stores in August. However due to the recent backlash, CNN has reported that the company has cancelled the release of the shoe.
A handful of Adidas fans also defended the design and brushed off the criticism.
These are just bloody shoes! one wrote. Youre making too much of a hassle about this, bringing in racism when its not even intended.
The shoes were previewed in February by the blog Kicks on Fire, which called them handcuff shoes, but controversy didnt bubble up until the image was posted on the Adidas page.
So I ask you guys "Is this the WORST MARKETING IDEA EVER?"
FOLLOW US ON TWITTER @DABXBLOGGER & @JayBoogieBx
3 Responses