Drake And Chris Fight At NYC Club?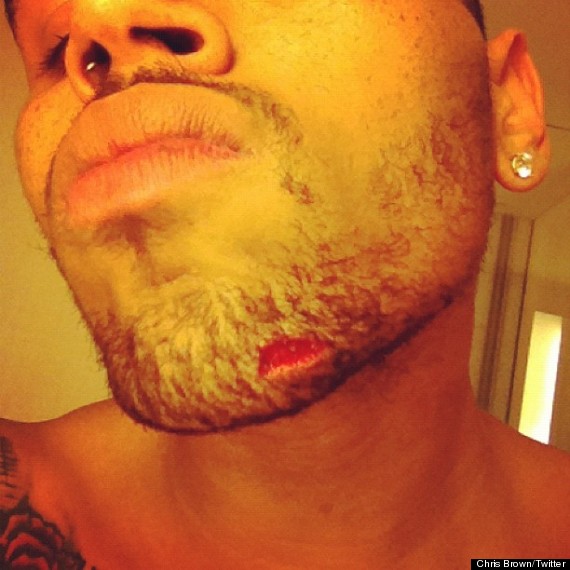 The love triangle that is Chris Brown, Drake, and Rihanna finally came to head last night at a NYC club. Apparently there was an altercation between Drake and Chris Brown with bottles being thrown.
Things have been a little hostile between all parties trying to court Rihanna. An alleged altercation with Drake had Chris Twitpic'ing the aftermath. He took to Twitter after a bottle was thrown at his face (cutting his chin) and called Drake out. Tweets he later deleted.
"N*ggas throwing bottles! Y'all n*ggaz weak!
"Bottles? It's nothing! Lol.
"N*ggas is pussy," he added.
Charming.
"How u party with a rich n*gga that hate? Lol…. Throwing bottles like girls? #shameonya!"
Chris Brown's publicist must've been busy last night deleting all of his Tweets.
I have a visual of how this thing went down and here's my illustration
The love for Rihanna's vagina is REAL I TELL YA!!! It was only a couple of months ago that Philly rapper Meek Mill got into a Twitter altercation with Chris Brown. Of course the entire thing played itself out on Twitter.
These two claimed Rihanna's VaJayJay as a prized trophy or discarded item (for the sake of argument). Meek initiate the Tweets (which later all parties deleted).
"You took me off ya song cause she let me watch the throne #dreamsandnightmares," which referenced Rihanna joining Kanye West and Jay-Z on stage.
Chris responded:
"She's a dream chaser! There are a lot of dream chasers so she'll be running forever," to which Meek replied: "Dese chicks belong to the game… not u! Never get confused and think that's all u!"
At this point, Drake then got involved, and Chris concluded it all by saying:
"Id like to send the bullshit a BIG F**K YOU from the bottom of my ballz! Lol.. Real nigga! Goodnight!"
Rihanna's definitely got a spell on anyone who comes in contact with her southern region. Having all who encounter it say
"OH NA NA, WHAT'S MY NAME!!!"
FOLLOW US ON TWITTER @DABXBLOGGER & @JayBoogieBx
One Response