EDDIE WINSLOW CLAIMS HE NEVER BEAT HIS EX-WIFE "SUPERHEAD" KARRINE STEFFANS!!!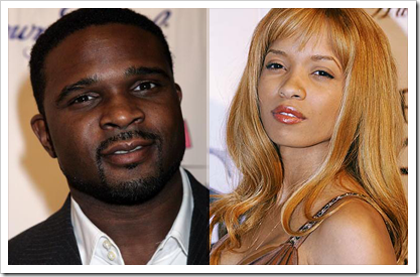 You know how the saying goes: "You can't turn a hoe into a housewife" well can Karrine  "SUPERHEAD" Steffans turn Darius McCrary into a wife beater?
Earlier this week the famed video vixen and Hip-Hop's first SUPER-GROUPIE filed for a protective order against McCrary. According to the papers, Darius was ordered to stay at least 100 yards away from his ex-wife and her son. Legal papers which were filed in LA County cited two separate incidents where the 34-year-old McCrary had gotten violent.
By Karrine's account McCrary "choked me from behind and beat me with a belt" during an argument in February … an attack allegedly witnessed by her 12-year-old son. Karrine claims McCrary struck again in November — choking her and shoving her into a car in front of alarge crowd of people at the Sunset Marquis Hotel in L.A.
Now the former husband is saying it's all BS and claimed he has never laid a hand on her. By his account, Darius claims it's all part of a divorce gone wrong … adding, it's clear his ex — famous video vixen Karrine Steffans — "didn't take the finality of the divorce well and has resorted to her old tricks of public defamation."
Darius told TMZ.com, he wants everyone to know that "in no way does he condone anyone resorting to violence against another human being to solve a problem."
I said it before, I'll say it again: "You can't turn a hoe into a housewife!"
Source: TMZ.com
FOLLOW ME ON TWITTER @jayboogiebx